Myrtle Beach Shows & Attractions
The Caravelle Resort has over 50 years of experience welcoming vacationers to Myrtle Beach, South Carolina. With all that Myrtle Beach has to offer, it is not hard to see why families come back year after year.
Here are a few of the best Myrtle Beach attractions for families near The Caravelle Resort:
White, sandy beaches
Live entertainment theaters
World-class dining
Exciting nightlife
Family amusement attractions
First-class shopping
Freshwater, ocean and deep sea saltwater fishing
Cultural activities and historical sites
and much, much more!
Attractions
Broadway Grand Prix
Broadway Grand Prix
Thrills, thrills and more thrills! Broadway Grand Prix is the "ultimate family attraction", and it is located right across from Broadway at the Beach!  The race park is also only 5 miles from our resort.
Take a drive on seven Go-Kart tracks, test your luck in the Grand Prix Arcade, or challenge the family to one of two 18-hole mini-golf courses.  Feeling brave?  Soar through the sky with the Sky Coaster!  Get a great workout with the Rock Climbing Wall, but be sure to bring close-toed shoes for this challenging activity.  Broadway Grand Prix includes fun for all ages, and they have a separate KidsZone for their smaller guests!
Hollywood Wax Museum
Hollywood Wax Museum
Hollywood Wax Museum Entertainment Center is open year-round, and it is a great indoor attraction in Myrtle Beach. Located just 10 minutes from our resort, the museum is a great place for all ages! This entertainment complex also includes Outbreak – Dread the Undead and Hannah's Maze of Mirrors. Purchase a ticket that includes all three attractions to get the full experience.
Meet and take pictures with America's favorite stars at the wax museum, shriek your way through zombies and try to contain the Alpha Strain before it destroys the world in Outbreak, and take up to 288 turns through the mirrored maze to save Princess Hannah! The fun never stops!
WonderWorks
WonderWorks
Most know it as the upside down building at Broadway at the Beach, but have you ever been inside? WonderWorks is a fun Myrtle Beach Attraction for the entire family. Originally a "research lab" in the Bermuda Triangle, story has it that the lab was thrown all the way over to Myrtle Beach during an experiment that went wrong. The themes of WonderWorks are found within the original experiments that were performed in the building. Over 100 exhibits fill the inside of WonderWorks from Space Discovery to the Hurricane Shack where you can feel like you are in a category 1 hurricane! You will be amazed by all of the exhibits. Beyond the the exhibits, WonderWorks also has a ropes challenge course—just make sure you wear closed shoes for this one! For additional fees, participants can play lazer tag, fly across the zipline or try their skills at the outdoor ropes course.
Myrtle Beach Boardwalk
Myrtle Beach Boardwalk
Myrtle Beach's Boardwalk and Promenade is a terrific place to stroll alongside the ocean while enjoying some of Myrtle Beach's best shopping and dining options right in the midst of downtown. The Boardwalk extends from 15th Avenue North down to the 2nd Avenue Pier. One of the hottest spots during the summer months is Myrtle Beach's Plyler Park, which is the home of "Hot Summer Nights" a well-known concert series featuring nightly music after dark. The 1.2 mile boardwalk is an award-winning attraction that has been nationally recognized by various national and local media outlets.
Ripley's Aquarium
Ripley's Aquarium
The Ripley's Aquarium, located at Broadway at the Beach, is a fun and exciting way to spend the day. While at the aquarium, you will be able to view and learn about a variety of sea-life. The aquarium is 85,000 square feet and features excellent views of some of the world's most beautiful creatures including living corals, clown triggerfish, penguins and so much more! Plus, the aquarium has a shallow pool where visitors can pet the sting rays. If you want to be truly amazed, step into the Dangerous Reef exhibit where visitors can move through an underwater viewing tunnel on a glidepath, offering excellent views of squirrelfish, a giant sea turtle, and the most popular—sharks!
Pavilion Park
Pavilion Park
During your next stay at the Caravelle, be sure to visit the Myrtle Beach Pavilion Park at Broadway at the Beach. The East park incorporates parts of the former Pavilion, and the familiar sites and sounds recreate a fun and enjoyable experience. Whether your kids want to ride the Kiddie Dune Buggie Ride or the Herschell-Spillman Carousel, they will have a fantastic time! Central Park has more thrilling rides for the braver members of your family, and West Park has new kiddie rides and the Myrtle Turtle Coaster. Their midway includes the Pavilion Arcade and serves up a smile with pizza, cotton candy and other treats. The Park is also a great place to see fireworks with their huge seasonal display on select summer nights.
Myrtle Waves Water Park
Myrtle Waves Water Park
When your family is done enjoying the many water amenities at the Caravelle, try a day at Myrtle Waves! South Carolina's largest water park offers private cabana rentals so you can rest in the shade when you need a break. Take advantage of season passes to enjoy daily visits to slides, raft rides, and concessions. Myrtle Waves is open seasonally and is a must-do for families during their summer Myrtle Beach vacation!
Myrtle Beach Pelicans Baseball
Myrtle Beach Pelicans Baseball
For those looking to experience an all American pastime – a summer baseball game, Myrtle Beach is the place to do it! Our Myrtle Beach Pelicans are a Class A Minor League team, and guests of the Caravelle will love going to a game at TicketReturn.com field! With games all summer long, ongoing promotions, and great ballpark food, the Myrtle Beach Pelicans make going to their baseball games fun and affordable.
Miniature Golf
Miniature Golf
You don't have to go far from the Caravelle to find numerous min-golf courses in the area. Hundreds of mini golf courses can be found practically wherever you are. Some have ponds with turtles, while others have indoor and outdoor portions of their courses so your family can stay cool while playing on a hot summer day. Plus, many golf courses are open late, so no need to worry about when they close!
Family Kingdom Amusement Park
Family Kingdom Amusement Park
Located just 6 miles from The Caravelle, Family Kingdom Amusement Park will bring your family hours of fun. Enjoy ocean views from their great rides and entertainment! Family Kingdom is perfect for the entire family, no matter how old. Whether you want to race in a bumper car, throw your arms up on the Swamp Fox wooden roller coaster, get drenched on a water ride or play carnival games, Family Kingdom is a great way to spend the afternoon! If you need to cool off, their waterpark Splashes is right across the street.
Brookgreen Gardens
Brookgreen Gardens
Murrells Inlet holds one of the area's best-preserved sections of land along the Grand Strand. Sitting on 10,000 acres, Brookgreen Gardens features the largest outdoor museum of American figurative sculpture, huge botanical gardens, and a native wildlife zoo. This site is host to the rich heritage that embodies the history of the area. Visitors to the garden can spend hours upon hours strolling along the paths where they can view more than 1,000 pieces of sculpture on display in a natural setting. The gardens are divided up into areas such as the "Children's Garden" and the "Fountain of the Muses Garden." Don't forget to visit the otters, bald eagles, and alligators which are housed in a natural setting at the shaded zoo. Brookgreen Gardens also features a picnic area, two restaurants, many free tours, and several boat and bus tours for an additional fee.
Alligator Adventure
Alligator Adventure
Has your family ever wanted to get up-close to one of the south's most popular creatures? Located just 12 minutes north at Barefoot Landing, Alligator Adventure is one of the biggest reptile places in the world. They have more than just alligators; they also feature snakes, lemurs, bats and many more types of animals. Experts are also on hand to give alligator feeding, alligator handling, or snake handling demonstrations for curious guests. Are snakes really slimy? Are you brave enough to find out? Alligator Adventure is open year round, and their shows change with the season, so make sure to check them out!
Big "M" Casino
Big "M" Casino
Play and win BIG aboard the 2 luxury yachts of Big "M" Casino! Party in style and test your skills and luck with tables games like Blackjack, Craps, Roulette, 3 Card Poker and Let-It-Ride. Select cruises feature fun entertainment or Bingo, and each cruise has an optional all-you-can-eat buffet! Experience the rush that comes along with flashing lights and sound when you win at our slot machines, and Big "M" pays out an average of $336,000 a week!
Call 843-249-9811 to book your cruise!
Myrtle Beach Segway
Myrtle Beach Segway
If you have never tried to ride on a Segway but have always wanted to, be sure to check out Myrtle Beach Segway during your next vacation. Located at Market Common, they offer a variety of short-term and long-term rentals as well as scenic Segway tours including a Huntington Beach State Park Tour and an experience at the North Myrtle Beach Park and Sports Complex. Segways offer a unique and effortless way to get around the area while feeling like you are sliding along the pavement. Advanced reservations are highly recommended. Be sure to check them out the next time you are at the beach for an unforgettable family excursion!
North Myrtle Beach Park and Sports Complex
North Myrtle Beach Park and Sports Complex
The North Myrtle Beach Park and Sports Complex is located 13 miles north of our resort, but it may be worth the drive! There are many sports fields from baseball to soccer, and they even host Quidditch games for the Harry Potter fan in your family. The complex also includes three miles of walking paths, 8 batting tunnels, playgrounds and convenient picnic shelters for an afternoon snack!
A new addition to the North Myrtle Beach Park and Sports Complex is the Shark Wake Park 843! Wakeboarding is a unique water sport that uses cables to tow athletes over jumps and around obstacles. This is the tallest system in the United States, so be sure to check it out!
Myrtle Beach Watersports
Myrtle Beach Watersports
Myrtle Beach Watersports is fun for the whole family and offers a variety of watersport rentals. They are proud to be "making customers happy for 20 years." Located throughout Myrtle Beach, they provide jet ski rentals, pontoon boat rentals, parasailing and much more. No matter what water sport you choose, you will have a great time with your entire family! Different locations offer different services, so be sure to check their website before you head out the door!
Downwind Sails Watersports
Downwind Sails Watersports
Visit Downwind Watersports to make a memory on the ocean during your next Caravelle vacation. Downwind features a variety of services and rentals to suit your needs such as parasailing, jet ski rentals, dolphin watching, sailboat rentals, and banana boat rides. Life jackets are provided for their activities, and Downwind only uses highly qualified and trained professionals so you will feel safe during your excursion. They offer multiple ways for visitors to see the ocean and have a great time!
Calabash Fishing Fleet
Calabash Fishing Fleet
Just over the border into North Carolina is the Calabash Fishing Fleet. Calabash is 22 miles north of our resort, and this is one of the most popular fishing outing providers in the area. Whether you want to charter their 46-foot Atlantic "Miss Calabash" boat, search for dolphins on the Dolphin Adventure Cruise or take your significant other on a Sunset cruise, you won't be disappointed. Gulf Stream excursions last for an entire half day. They also provide sport fishing charters and corporate group charters. From the beginner fisherman in the family to the well-seasoned fishermen, Calabash Fishing Fleet accommodates all skill levels and provides a family friendly atmosphere onboard.
2nd Avenue Pier
2nd Avenue Pier
The 2nd Avenue Pier is a landmark Myrtle Beach fixture. It is easily accessible from the Myrtle Beach Boardwalk and offers a variety of fun and food for the whole family! You can fish from the pier, where you may catch a variety of fish no matter what the season. They offer daily fishing passes, rod rentals and bait.After fishing, you can enjoy a meal or drink at the Wicked Tuna Restaurant. Feel free to wear your beach attire, but shirts are required inside the restaurant. Enjoy awesome views of the ocean from your table or their beautiful Open Air Bar. Even if you don't catch anything while you are fishing, you can still enjoy great seafood.
Children's Museum of South Carolina
Children's Museum of South Carolina
During your next family vacation at the Caravelle, be sure to take your kids to the Children's Museum of South Carolina. Not only does the museum provide education but it also provides kids with hours of fun. The museum features a variety of exhibits including Bubble Mania, Famous Fraction Pizza Delivery Truck and Flora's Farmers Market. Kids can also learn about recycling, gravity, shells and so much more! This museum offers kids an opportunity to learn through fun interaction, and it is only 9 minutes south of our resort!
SkyWheel Myrtle Beach
SkyWheel Myrtle Beach
During your next trip to the Caravelle, head down to the boardwalk in Myrtle Beach to take a ride that you will never forget on the Myrtle Beach SkyWheel. With amazing views at 200 feet above the beach, riders will be able to see farther than ever before—across the ocean, beyond the pier and over nearby buildings. Riders are seated in one of 42 gondolas which can carry up to 6 people. If you ride during the day, be sure to return at night when the wheel radiates and glows in the night sky with a multitude of colors streaming along the arms of the wheel.
Shopping
The Market Common
The Market Common
Designed to promote a first class shopping experience, Market Common is a great place to spend an afternoon. Start your shopping experience off by hitting several of the local shops. Then head to one of the area's fantastic restaurants like Tupelo Honey Cafe, Gordon Biersch Brewery, or P.F. Chang's China Bistro. For some after dinner entertainment, head to the Grand 14 Cinema. If you're looking for something sweet then check out Cold Stone Creamery for some tasty treats or Crepe Creation Cafe. Home to over 54 different shops and restaurants, Market Common is a fresh modern twist on a classic shopping experience.
Broadway at the Beach
Broadway at the Beach
Broadway at the Beach is home to over 100 shops, 20 restaurants, and numerous entertainment options such as Legends In Concert and Dave & Busters. Visited by over 14 million people annually, the complex itself has been voted as the state's best travel destination by the South Carolina Department of Parks, Recreation & Tourism. Some of their most recognizable buildings are Margaritaville, Jimmy Buffet's well-known restaurant, WonderWorks, the upside-down building, and Ripley's Aquarium featuring the underwater tunnel that takes you underneath the rainbow rock shark tank giving you an up-close and personal view of the sharks. Broadway at the Beach has recently opened a new home for the Hard Rock Cafe, a Wahlburgers and a new nightclub, Oz, which uses visual effects to create a different club each night! Keep an eye on their calendar of events for exciting parades and firework displays.
Barefoot Landing
Barefoot Landing
Built beside Louis Lake, Barefoot Landing is a large shopping center located just 7 miles north of The Caravelle in North Myrtle Beach. What sets Barefoot apart from some of the other shopping centers in Myrtle Beach is its vast array of dining options that are sure to please any picky eater. From Greg Norman's Australian Grille to Joe's Crab Shack, Barefoot Landing has just about every type of food available in their 64-acre complex, and many restaurants feature excellent views of the waterway. The shopping center is not lacking in entertainment options either! Barefoot Landing is home to the famous Alabama Theatre which features dazzling shows. Alligator Adventure is open year round and is one of the most popular attractions in the area with daily animal demonstrations. Are you brave enough to touch a live snake or alligator? With over 50 shops to choose from as well, Barefoot Landing can easily keep a family entertained for an entire afternoon.
Tanger Outlets
Tanger Outlets
Centrally located between the two outlets, Caravelle guests will have their pick for which Tanger Outlet to shop at. Each location is home to over 100 stores giving guests a diverse shopping experience. The outlet off 501 is home to shops such as NIKE, Coach Factory, J. Crew, Nine West, Polo Ralph Lauren, Banana Republic, Reebok, and more! Grab a drink or a bite to eat at Outback Steakhouse or The Fudgery. The outlet off King's Highway features American Eagle, Fossil, Adidas, Sketchers, Michael Kors, Calvin Kein, Oakley, Old Navy, Tommy Hilfiger, Disney, and many more. If shopping is on your Myrtle Beach to-do list, then you don't want to miss out on hitting both of these Tanger locations!
Shows
Pirate's Voyage Dinner & Show
Pirate's Voyage Dinner & Show
Arr Matey! Walk the plank to Pirates Voyage, a well-known pirate-themed entertainment show featuring a four-course meal during this exciting dinner show. Pirates Voyage's main stage is a pirate ship that sits in a 15-foot lagoon, making it stand out even more from other shows in Myrtle Beach. Amazing acrobatic stunts, mermaids, live animals, and an original musical score provided by Dolly Parton create a fun and entertaining atmosphere for every guest. Sit back, enjoy the music, and live the life of a pirate for a few hours.
Medieval Times Dinner & Tournament
Medieval Times Dinner & Tournament
Good day, my lord! Head back to the Medieval Ages and enjoy a full four-course meal along with exciting nightly entertainment at the Medieval Times Castle off Hwy. 501 in Myrtle Beach. If sword fighting, jousting, and good food is something you like, then Medieval Times is a must add to your to-do list. During this unique dinner show, Medieval Times brings romance, thrilling excitement, and hand-to-hand combat to the center stage. Enjoy a wonderful meal as you watch knights do battle, aiming to please the King who watches from above. Consider adding on a Royalty Package for VIP seating and a special cheering banner!
Legends In Concert
Legends In Concert
This world famous live tribute show features an amazing all star cast of FIVE great acts in ONE grand show. Legends In Concert performances are the real thing, with performers singing with their natural voices and perfection of mannerisms, hair and dress of the original celebrities portrayed. All this backed by a hot live band, singers, dancers, special effects and lighting in an intimate style theater where everyone has a great view. The acts rotate at least four times a year, so audiences experience a brand-new performance each season. Voted number one show on the beach, It's An Event You Won't Forget!
Alabama Theatre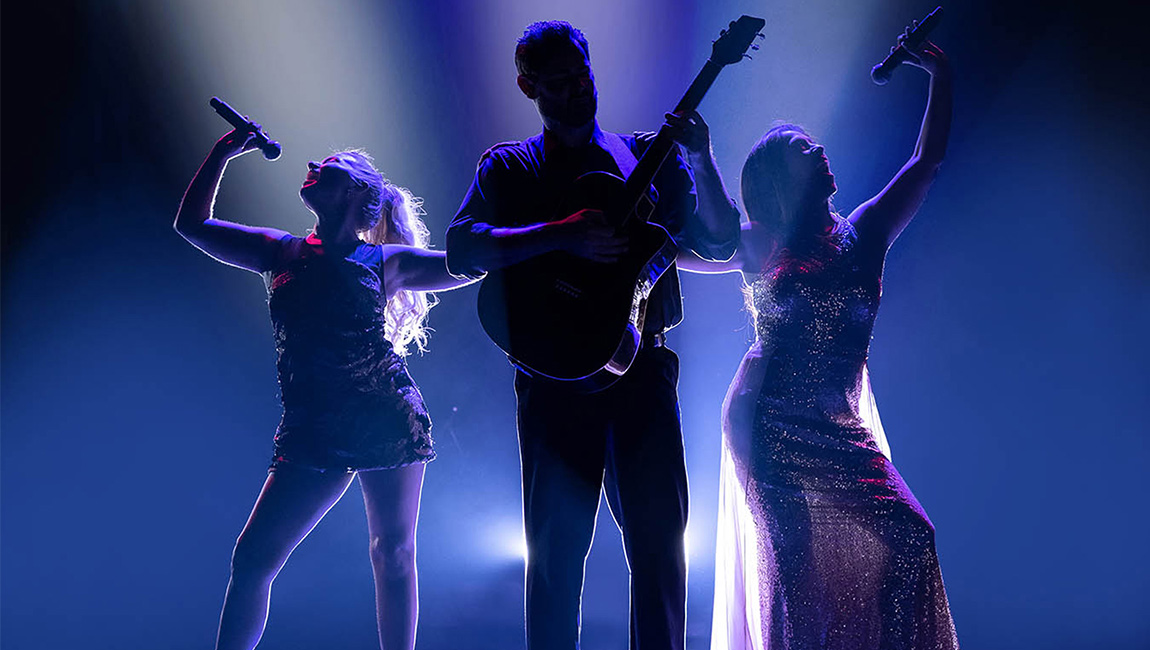 Alabama Theatre
The Alabama Theatre, located at Barefoot Landing, is consistently voted the #1 Live Entertainment Theatre by Myrtle Beach visitors and locals alike!
Featuring, ICONIC, a cutting-edge show on stage and in the air with visual elements and a state-of-the-art video wall, unlike anything you have seen along the Grand Strand.
Carolina Opry
Carolina Opry
With four shows running at different times throughout the year, the Carolina Opry is one of the best musical attractions in the Myrtle Beach area. A multi-year winner of the Best Show in Myrtle Beach award, the Carolina Opry boasts professional lighting and premium sound in their 2,200-seat theater. This year's show calendar will thrill audiences with The Carolina Opry show, Time Warp, Thunder & Light, and their seasonal favorite, The Carolina Opry Christmas Special. With over nine million tickets sold during their time in Myrtle Beach, the Carolina Opry is one of Myrtle Beach's longest-running attractions.
testimonials

what our guests say
My family has been coming to The Caravelle for 8 years - love this place. We always have such a great time!

Kimberly A.
The service at this resort was phenomenal and everyone was friendly!

Taryn B.
The friendly environment; the staff are so nice and I love coming back each summer.

Erik B.
One of the nicest places I've been and will go back every time I visit…The view was fantastic. The staff was great!

Terence P.
We really enjoyed our stay here! The room was huge, had everything we wanted, and the oceanfront view was so amazing!

Julie F.
Love being close to everything but not feeling like it! Great place to relax!!

Kandice V.
We love The Caravelle!

Dany & Katia
Loved it, had the best time. Rooms nice and right on the beach and affordable!

Betty L.
Caravelle is definitely a home away from home!

Jacqueline I.
My family stays here every trip to Myrtle Beach and love it!

timberwolves4
We had a great first family vacation at Myrtle Beach and we are so glad we stayed at Caravelle.

Payton K.
Nice condo, nice staff. We keep coming back again and again!

Deborah P.
I loved the friendliness of the staff and the hotel room was awesome.

Jen W.
Beautiful pool and lovely lazy river!

Harriett P.
This is the most relaxing week my family gets in a year, and that is why we keep coming back.

Brian W.
A wonderful family friendly place to stay, that's for sure! My girls are asking to book for next year already!!

Katrina S.